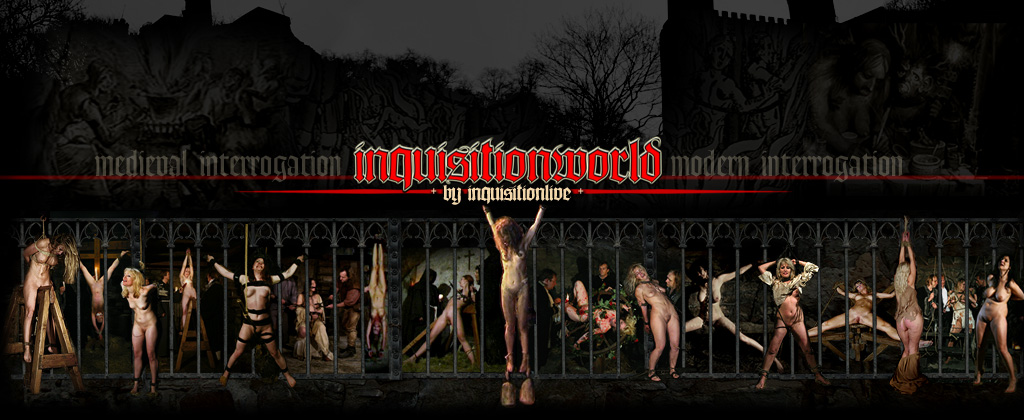 Welcome to Inquisitionworld - Willkommen zu Inquisitionworld

visit our websites - Besuchen Sie unsere Webseiten:
MEDIEVAL INTERROGATION OF WITCHES

The InquisitionLive Interrogatio videos are dedicated to bringing to life the actual medieval witch trials while remaining faithful to the real trials which occurred in medieval times.

Our endeavors began almost 15 years ago as a hobby for myself and a few friends. However, over time, our hobby has become the expression of a certain type of bdsm which hasn't been duplicated. Our videos incorporate the most beautiful actresses (witches) and best actors (inquisitors) that have ever taken the stage. Our productions are a must for every bondage connoisseur."


"These medieval witch interrogations are historically accurate and will arouse you like nothing before!"

MITTELALTERLICHE HEXENVERHOERE

Die Serie Inquisitionlive Interrogatio widmet sich der Inszenierung erotischer Hexenverhoehre in mittelalterlichem Ambiente.

Was vor ueber 15 Jahren als Hobby- und Freizeitprojekt einiger Freunde der mittelalterlichen Zeit begann, entwickelte sich zunehmend zum Ausdruck eines eigenen Bereiches innerhalb der BDSM-Variationen und Fetische. Oft kopiert, doch nie erreicht ist die Serie bis heute DAS Original fuer Freunde dieser besonderen Spielart, realisiert mit erfahrenen Schauspielern und den schoensten veranlagten "Hexen" die je am Pranger standen.

"Die erotisch-lustvolle Interpretation mittelalterlicher Hexentortur fasziniert und geht unter die Haut."

The series "ModernPrison" (also "Modern-Inquisition" / "Modern-Interrogatio" expands upon the traditional "women in prison" movies from the early 70's and 80's. However, we take it to the extreme. We show you a hidden women's prison which is concealed behind barbed wire fences, wherein young women are subjected to strip searches and sexual disciple. Any true connoisseur of women in prison movies will be happy.

"You will always remember how these girls have suffered by the most severe punishments!"

Enter the ModernPrison Website:

Die Serie "ModernPrison" (auch "Modern-Inquisition" / "Modern Interrogatio") steht ganz in der Tradition klassischer Frauenknastfilme der 70er und 80er Jahre, treibt jedoch deren Quintessenz auf die Spitze. In einem abgeschotteten Erziehungsinstitut hinter Stacheldrahtzaeunen werden junge Frauen nach allen Regeln der SM-Kunst verhoert und diszipliniert. Echte Kenner und Freunde des Aussergewoehnlichen kommen hier voll auf ihre Kosten.

"Masodevote Frauen werden hier an die Grenzen ihrer perversen Lust gebracht und gestehen am Ende ALLES!"

Besuchen Sie die offizielle Website:

The series is based on the story of the notorious Hungarian countess Bathory. The "Countess of Tears" and other eccentric ladies pursue their dark passions in their dark estate and rule according to their own laws. Again and again young maidservants are brought into the house for strict upbringing and as toys for the perverse desires of the authorities...

"What the Countess' maids experience there, YOU will not forget again."




Enter the official website:

Die Serie "Bathory-Tales" spielt in Anlehnung an die Geschichte der berüchtigten ungarischen Gräfin Bathory. "Die Gräfin der Tränen" und andere exzentrische Damen gehen in ihrem finsteren Anwesen ihren dunklen Leidenschaften nach und herrschen dabei nach ihren eigenen Gesetzen. Immer wieder werden junge Mägde zur strengen Erziehung und als Spielzeug für die perversen Gelüste der Obrigkeit ins Haus gebracht...

"Was die Zofen der Gräfin dort erleben, werden auch SIE nicht wieder vergessen."

Besuchen Sie die offizielle Website:

INQUISITIONLIVE movies on
DVD

If you prefer to watch our videos on DVD, you can order them in our online store. We ship international and 100% anonymous.

Order our DVDs here:

or click HERE to watch some trailers first:




INQUISITIONLIVE-Filme auf
DVD

Wenn Sie unsere Filme lieber auf DVD anschauen moechten, besuchen Sie unseren Online-Shop. Saemtliche Titel sind immer verfuegbar. Wir senden anonym und international.

Hier bestellen Sie unsere DVDs:

Trailer der aktuellen Filme gibt es HIER






18 U.S.C. 2257 Record-Keeping Requirements Compliance Statement

All performers were at least 21 years of age at the time of the production of the visual depictions in this site. The records required by 18 U.S.C. 2257 with respect to visual depictions of actual sexually explicit conduct are kept by M.Kolsche Services, NL [email protected]
Copyright © 2001- 2019 by M.Kolsche Services, NL. All rights reserved. All material on this site, including, but not limited to images, illustrations, audio clips, and video clips (collectively the "Material") is protected by copyrights owned or controlled by M.Kolsche Services, NL UNAUTHORIZED COPYING, REPRODUCTION, REPUBLISHING, UPLOADING, DOWNLOADING, POSTING, TRANSMITTING OR DUPLICATING OF ANY OF THE MATERIAL IS PROHIBITED.